Hi and welcome to the big manual of Ikea shopping. In this section I will take you through the whole process and hopefully answer all the questions you might have before placing an order with me.
1. The Service
It's simple really, you want something from Ikea so you tell me what it is, we agree on the conditions and then I'll go, buy and deliver it to your door. And yes, I will help you carrying it up into your flat if needed.
2. The Price
In most cases the prices range from 10 to 80 euros (this is an average, the price could go up to 150e). There's a lot of factors affecting the final price though. If it's just a couple of light, small items, it will most likely cost you 10 euros. You want a big-ass heavy table? Well that will set you back around 25 euros. Sofa around 40. You get the picture. For the exact price you have to contact me with the complete list of items (more on this in the Useful tips section at the end of the article). I will show you how to easily create and send me the shopping list in the sections below, just read on.
3. Creating the shopping list
Ok, so you know what you want and now there's a few options of how to get your list to me. Yes, you can simply message me the item numbers through my facebook page or through the contact form on this website but I have a better option for you. Ikea's website actually enables you to create a shopping list, even without the need to register or log in and this has a couple of advantages. First, you can easily check, if your items are actually in stock and second, it makes it much easier for me to get organized when I'm buying for more people.  It's really simple, I'm sure you've even done it before, just maybe not on the slovak website, so let me show you step-by-step how it's done.
Adding an item to the list:
Before adding an item to the list, please do make sure the item is in stock. The website tells you that, see the pictures below:
This item is in stock.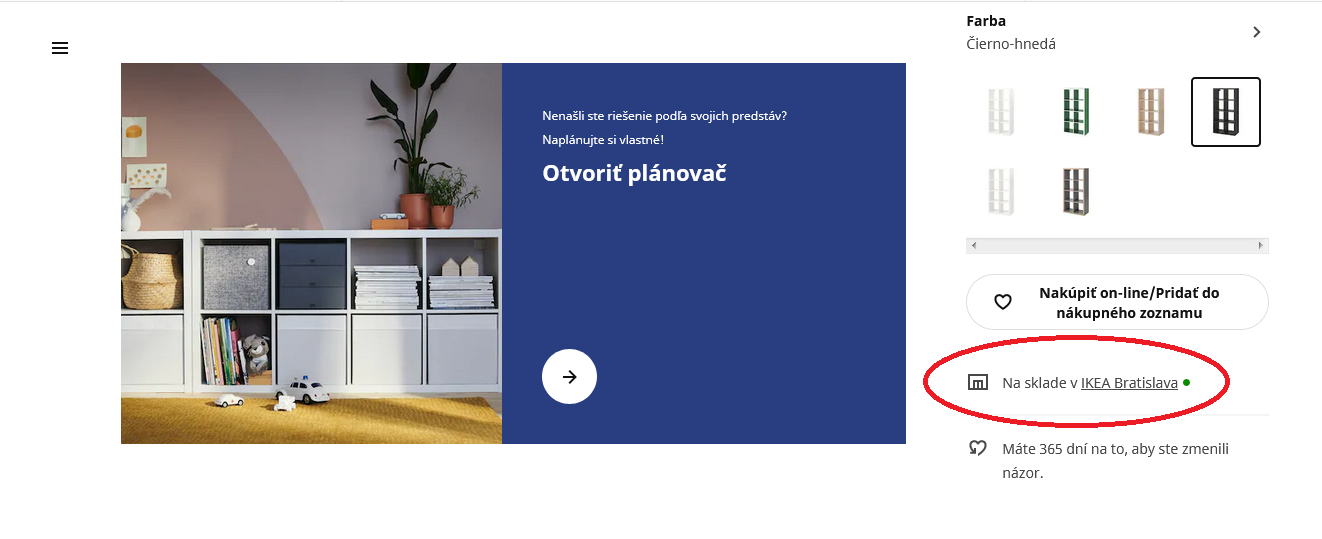 This one isn't.

Now that you know your item is available, you can simply add it to the shopping list by clicking on "Nakúpiť on-line/Pridať do nákupného zoznamu" button as shown below: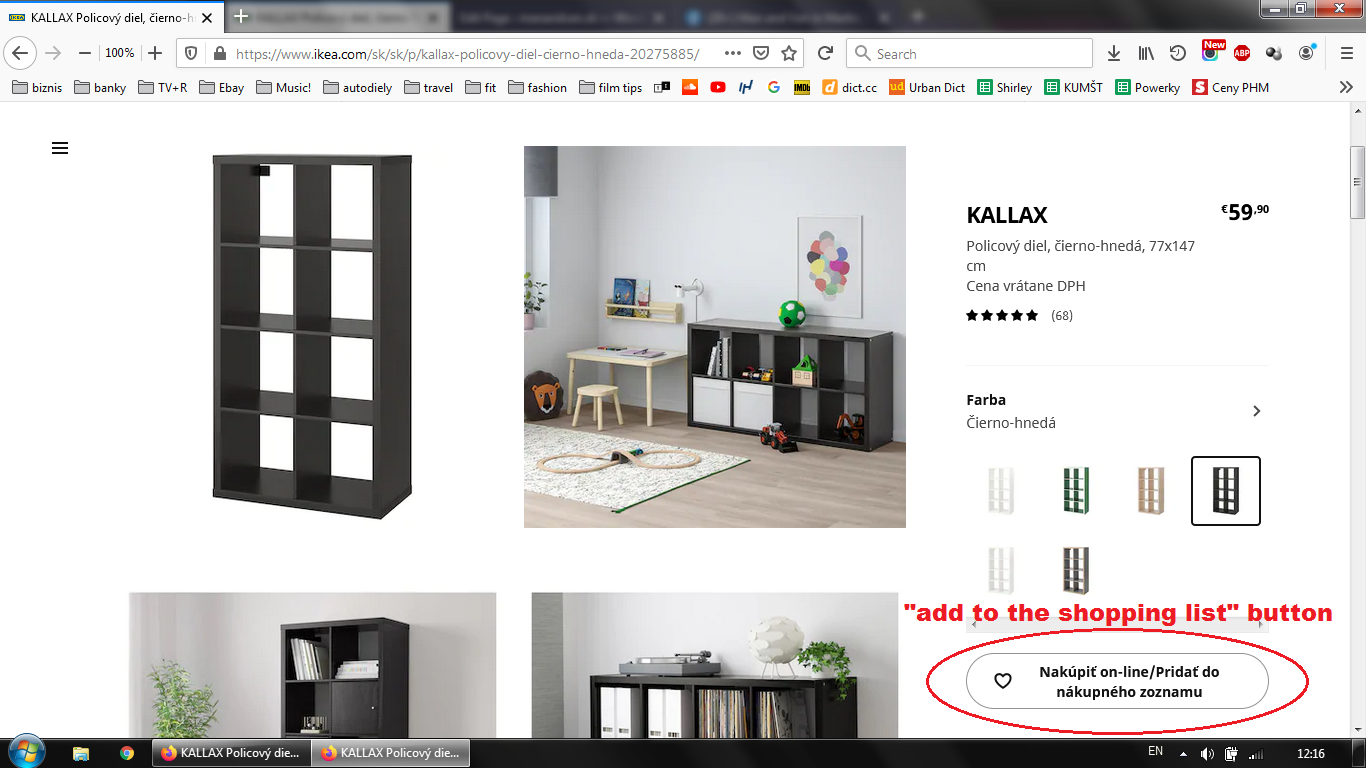 When you've done that, the message in the button should change to "Uložené".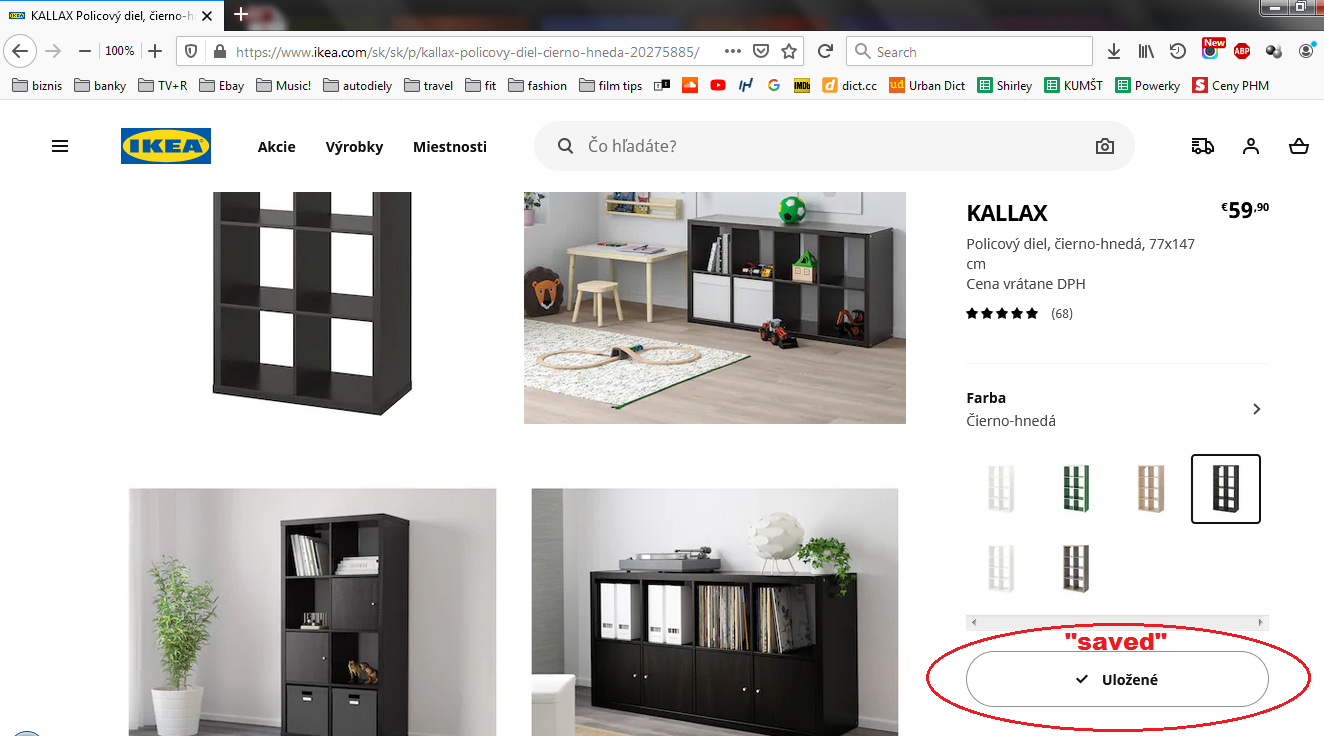 Continue this process until you have all the desired items in the basket. Please note it's no longer possible to select the number of items you'd like to put in the basket at this stage. We'll have to do that later.
Reviewing the shopping list: when you're done shopping, click on the "Nákupný zoznam" button.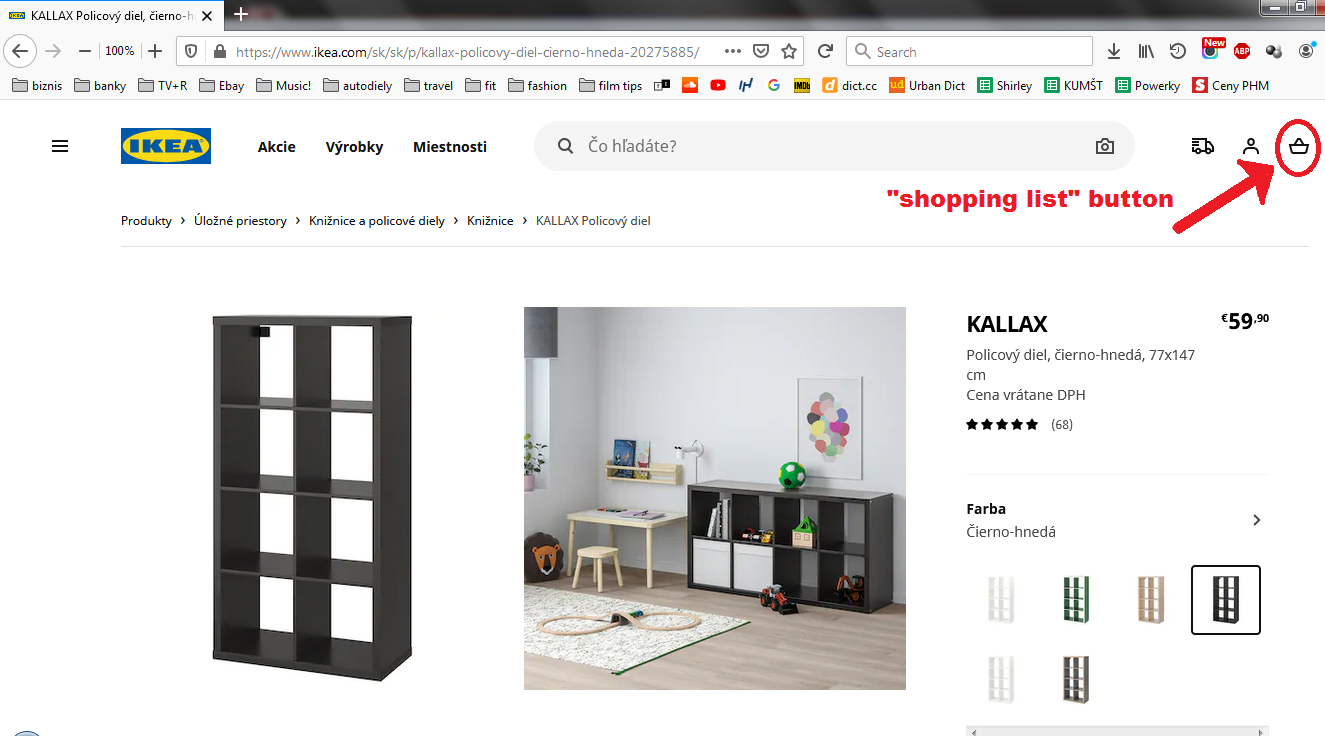 Once clicked, you will see the list of your desired items: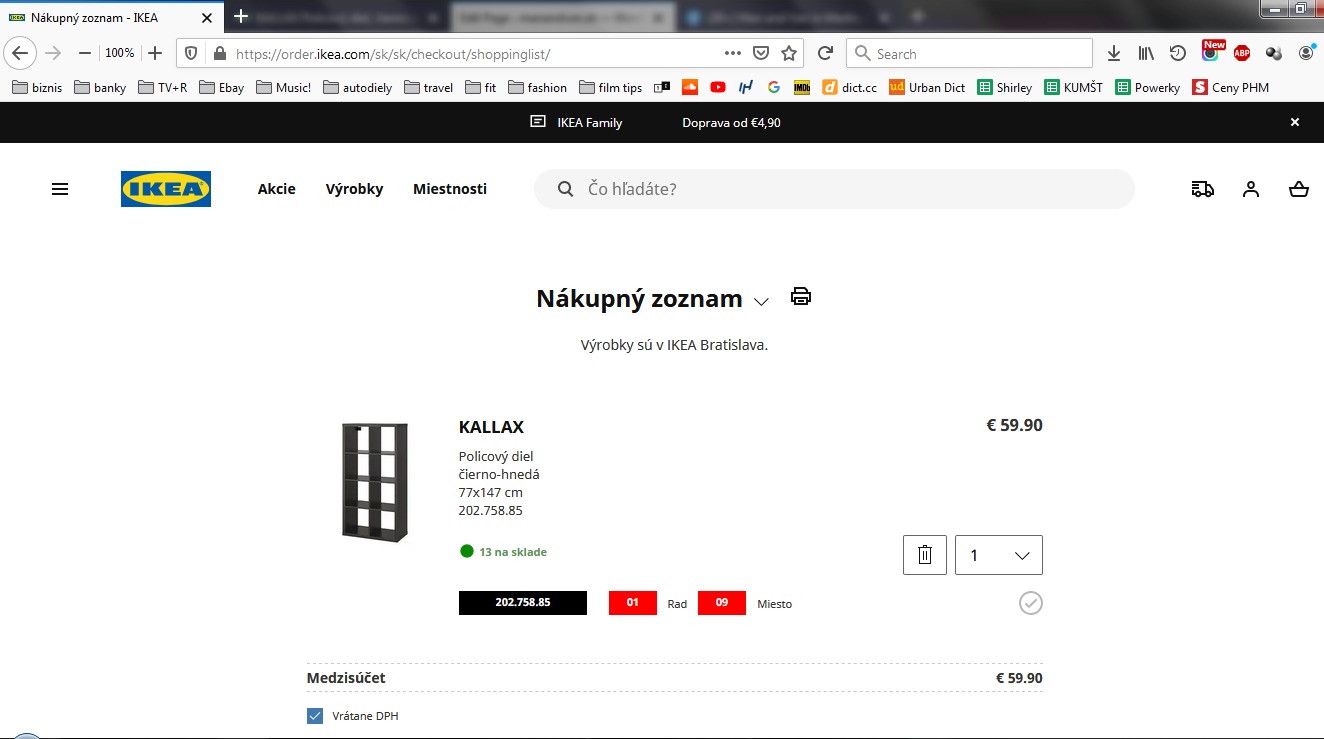 When reviewing the list, please have another availability check. It's pretty obvious here, see the picture below: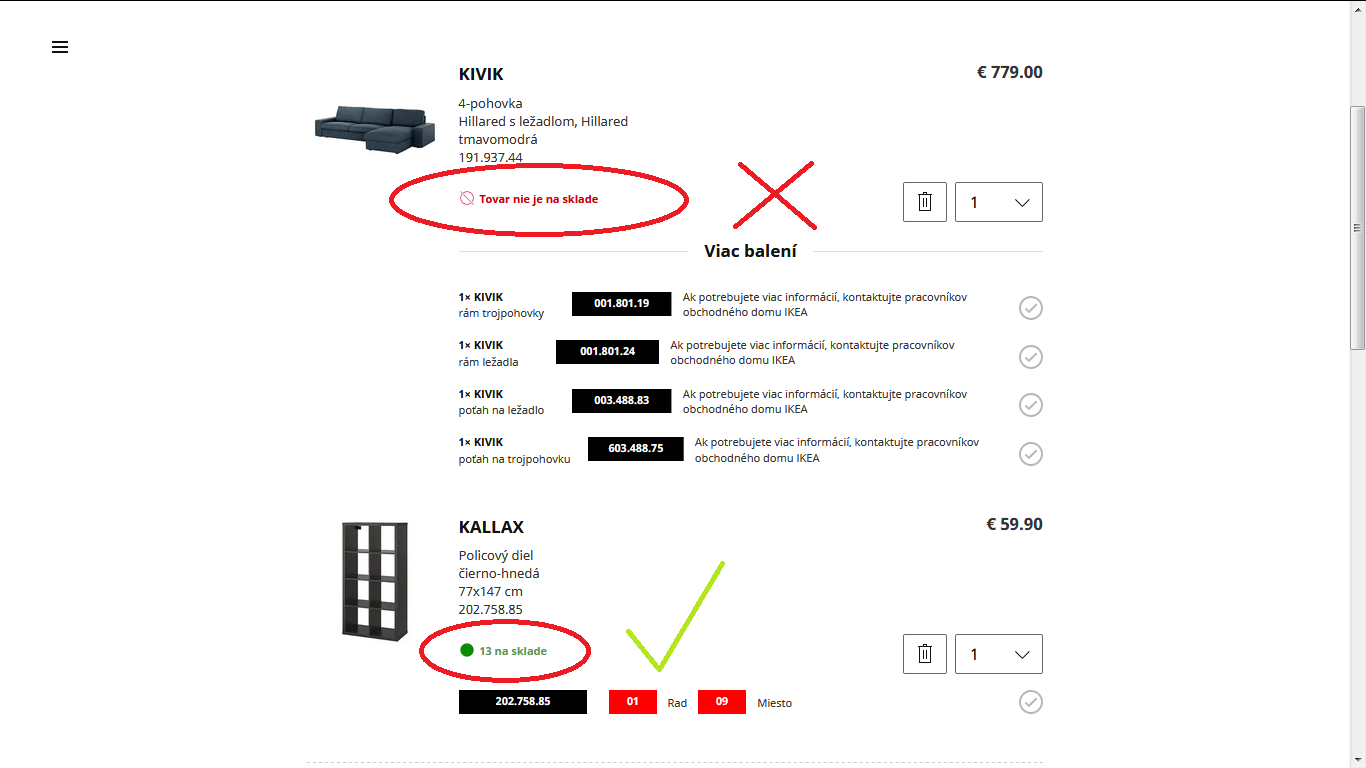 When you find out that your item is out of stock, please remove it from the list and try to find an alternative. If you really really want just that one item, contact me and I'll find out if they will stock it again any time soon.
Ok, now that all your items are green and good to go, you can select how many you want.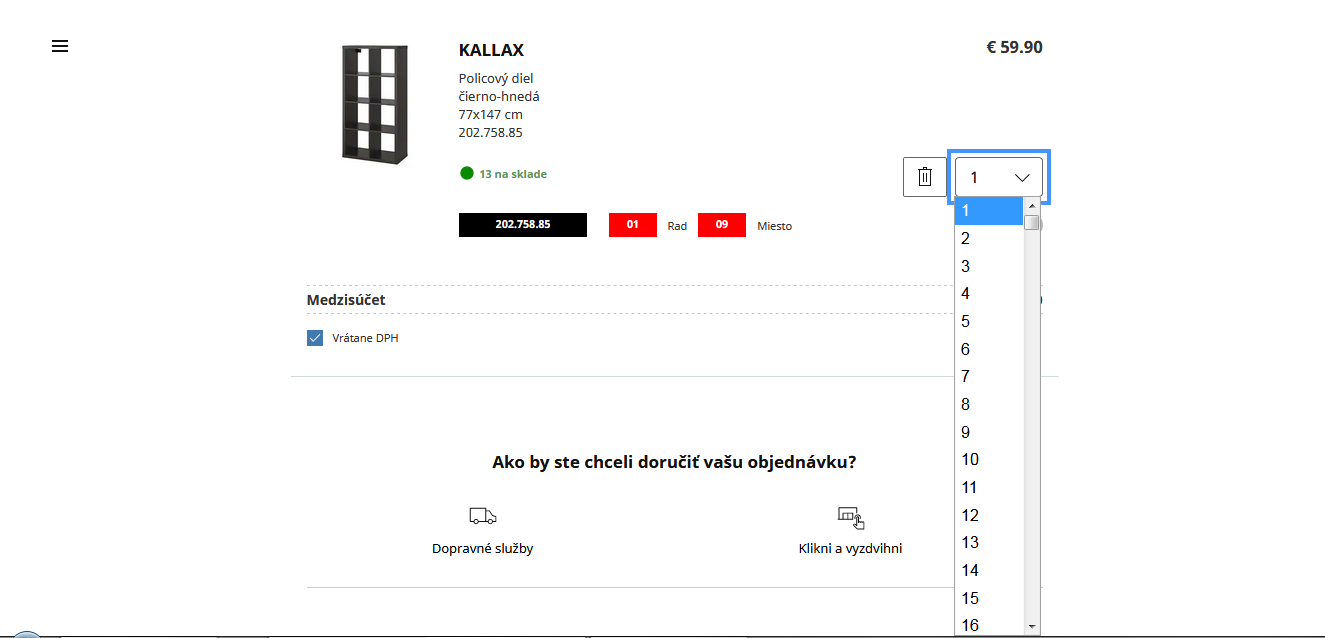 Saving the list to your harddrive:
In order to able to get your list to me, you have to save it first. Click on the Print icon.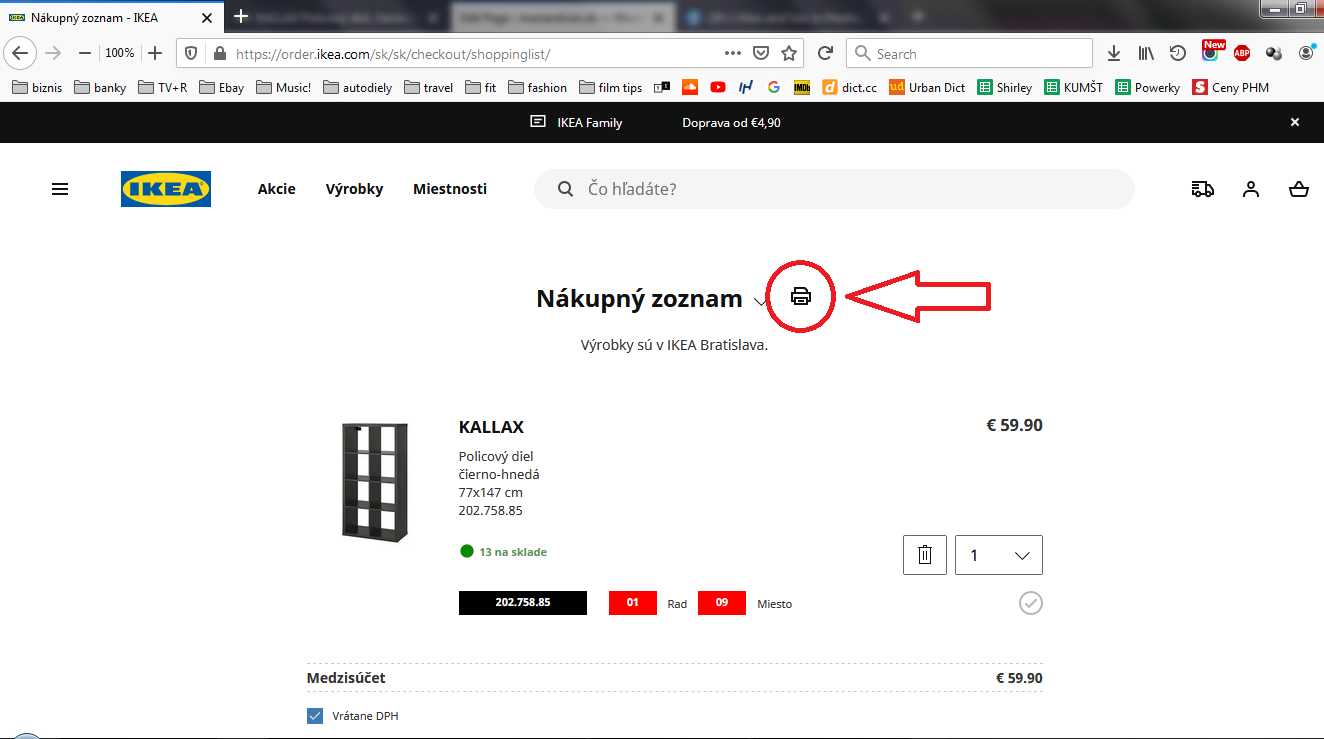 Windows users (probably no one):
Select the Microsoft XPS Document Writer and press Print.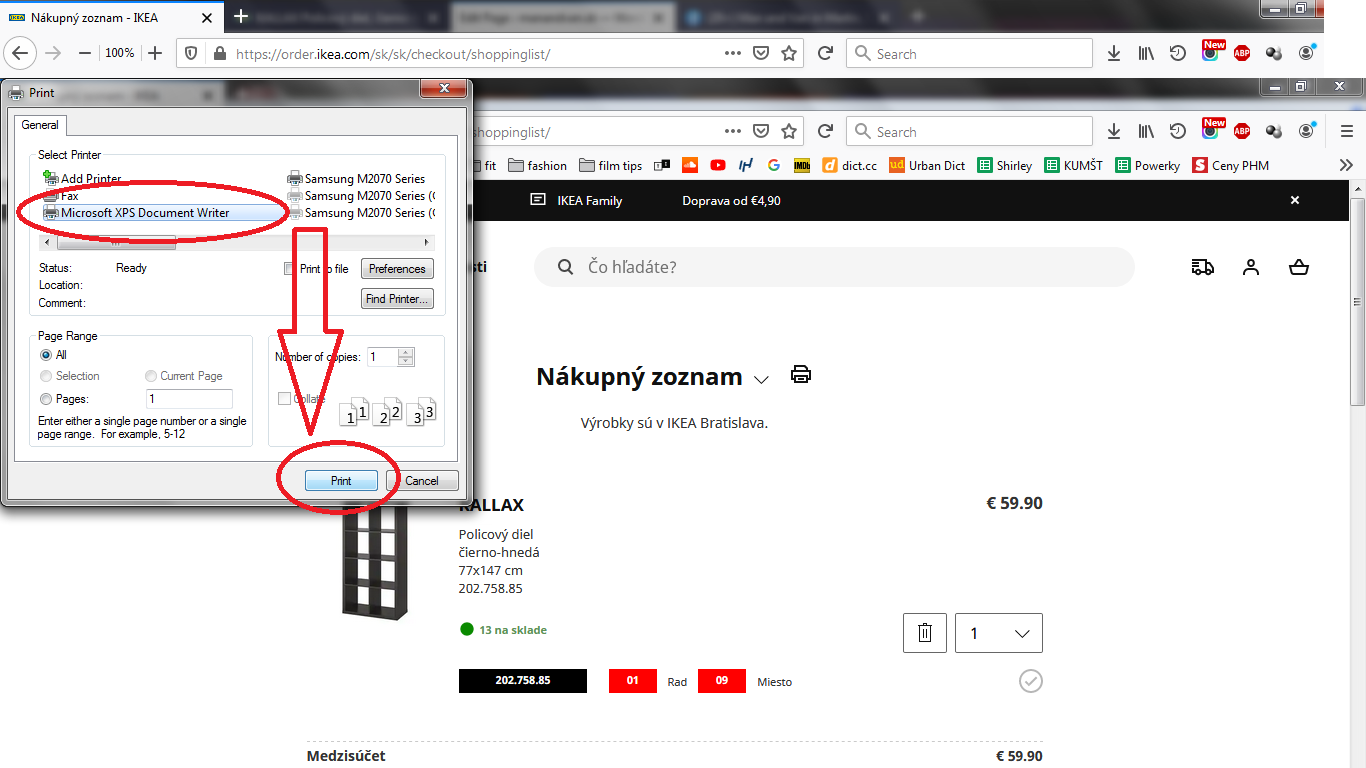 After clicking the Print button, name your file (your actual name might be a good option), save it and it's ready to be sent to me. You can email it to info@manandvan.sk. That's it!
MAC users:
In the left bottom corner there should be an option "PDF" where you should be able to save the file as PDF. Once created, it's ready to be sent to me.
Please note, I am neither a Mac nor Iphone user so I don't know how this works on the mobile version of the website but please take your time and use your laptop for this, that's everything you need to do really to place an order with me. I will take care of everything else – drive to Ikea, pick every single item, pay with my own money and bring it to your door.  If you just send me screenshots from your phone, I have to re-write everything manually and as you could imagine, it's rather time consuming. I'm ok with screenshots / item numbers if you only want up to 3 items, otherwise please create the list, thank you!
Done!
4. Closing the deal
After you've sent me your shopping list with your contact details, I will get back to you with the price and if you're happy with it then all you have to do now is  wait until I bring your stuff to you.
5. The delivery

In most cases I manage to bring your stuff to you on the same day as the shopping day. If not, then the next day upon agreement. I will always contact you before I come to you so please don't ask me about the delivery time on the shopping day, I will call you when I'm ready to come.  It's usually anywhere between 5-9pm. Also please have the money ready before I come so I don't have to wait for you to get the money out of an ATM.
It also happens quite often that you ask me "how much is it in total". Well, it's simple math really – the value of your shopping plus the delivery fee so please only ask me this question as a last resort in case you lost your list and forgot the total value or you can't find a calculator ;) Obviously there still might be some products missing and so you will not pay the full price of your list but it's still better to have the full amount ready.
6. Useful tips
I usually let you know about an upcoming trip on Facebook at least 2-3 days in advance and so I'd like you guys to really think well about everything you want to get and only try and send me the complete and final list. It happens quite often that you send me two, three or even four lists, constantly changing them but it's a pain for me having to re-print your lists over and over in hope that it's the last one. Not to mention, that we've already agreed on the price and then you send me a different list with different items. Also, if on the day D you make up your mind and message me if I can get you "one more thing", please bear in mind that I will charge you extra for every single extra item plus there's a big chance I won't be able to get it for you due to lack of space and/or money.
If you're buying a lamp, they never come with a bulb, so please let me know if you want me to get you it as well or you're alright to get one yourself elsewhere. At Ikea they only sell LED bulbs and the prices range anywhere from €0,99 – €4,99, where the lowest price is actually a sale price and normally they sell for €4,99 so please bear this in mind when getting a lamp.
Buying a bed:
Unless you're buying a bed that comes as a "complete package" e.g. "SÄBÖVIK", most beds consist of these parts:
Frame
Mattress
Slats
"Skorva" center console
These are usually sold separately so please make sure you read the item description to find out what's included with your desired bed. If in doubt, you can simply search for the item number on Ikea's website in your language, all items have the same numbers across the globe (not all products are sold everywhere though).
Here's what it says in the description for the SÄBÖVIK (292.394.59) bed on the Slovak vs Norwegian website:
Čo je súčasťou balenia
Vrátane matraca a lamelového roštu.                "Mattress and slats included."
Súčasťou balenia je podložka matraca.              "Mattress topper included."
Vrátane nožičiek.                                                    "Legs included."
Čelo postele je súčasťou balenia.                         "Headboard included."
——————————————————————————————————————–
I denne komplette senga gir bonnellfjærene i madrassen hele kroppen fast støtte, slik at du kan sove godt hele natta. Og hele senga leveres i to flatpakker og en sammenrullet pakke. Smart, ikke sant?
Madrass og ribbebunn er inkludert.
Overmadrass er inkludert.
Ben er inkludert.
Hodegavl er inkludert.
Sengetøy selges separat.
In case you only want just a few small items which are not that expensive and you don't want to pay 10 euros extra for the delivery, simply ask your friends if they want anything, put everything on one list and share the cost with them.
If you need a receipt for your purchase (e.g. because your landlord wants it, or whatever the reason is), you have to tell me about it, because I usually put everything on one receipt. It just makes things easier for me. However, it is no problem at all for me to pay for something separately, I just need to know about it.
It doesn't happen too often but sometimes I need to come and collect the money for your shopping before I drive to Ikea. I try to cover the shopping with my own money simply to save time but there's times when I don't have enough for everything. This usually happens when your shopping is worth 1000 euros or more but I will let you know about this in advance.
I always use my Ikea Family member card when paying, which means that you can change your mind and return the item undamaged and in original packaging within 365 days (yes, a whole year!) after the purchase instead of the usual 90. Another advantage of this is that every purchase, every receipt gets recorded onto my card and so they can track any product purchased by me so I don't even need a receipt when returning an item. All I need is my card number.
In case you don't understand any of the steps or it doesn't work as described or if you've got any questions at all, you can always reach me, all the contact info can be found on this webpage.
OK, that's all there is to it, I always try to do my best to meet all your needs and if you've read this closely you should now know everything you need to make this process go smoothly for me as well so thank you very much for your attention and I'm looking forward to doing business with you!
Have a great day :)